Soha Ali Khan inaugurates @home store in Chandigarh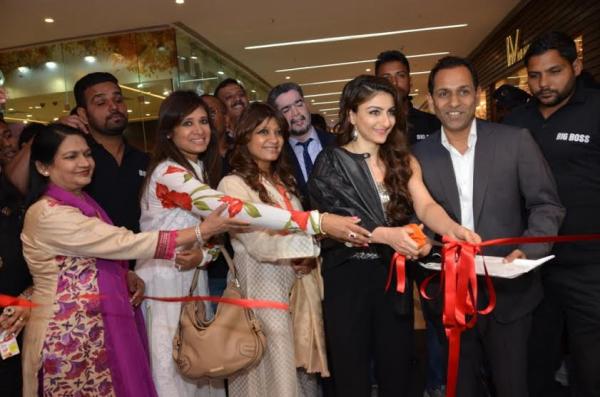 Chandigarh got a new reason to decorate their homes! Bollywood actress Soha Ali Khan inaugurated the first ever @home store in Chandigarh at Elante Mall on 14th November 2014. @home is a retail division at Nilkamal ltd. Present during the launch was Mr. Manish Parekh, Executive Director, @home.
Soha Ali Khan looked resplendent while she browsed through the various sections at the @home store. She loved the fancy cushions and lamps so much that on her way out she picked up a few favourites for her dream home. She congratulated Mr. Manish Parekh and the whole team on the occasion and praised the store.
Commenting on the occasion, Mr. Manish Parekh said "Chandigarh – the dream city known for its diversified culture, a shoppers paradise and the best planned city, is a very important market for us. We aim to bring to you the best from the home décor world".
Located at the Elante Mall and spread across 21000sq.ft, @home is a one-stop solution store for home planning with the finest quality furniture, soft furnishings & home accessories. The designs at @home are contemporary yet practical, mirroring Indian taste & requirements.
@home offers its customers an unparalleled plethora of services. All @home stores have skilled in-house team of designers to assist buyers with their interior planning solutions with proprietary 3-D imaging software totally free of cost. Professional guidance in buying the right products, loan options, convenient home delivery and installation are other value added services that are offered. With a wide range for your living, dining, bedroom, modular kitchen, mattress, furnishings and home decor; '@home' has products that appeal across various segments of the society at affordable prices.
NEWS ID : 275 | 28 Nov 2014 | By : Jaspreet Singh Gahir
Other NEWS :
Comments
No Access (Please Login To Comment)